Many people may be very interested in is Onetigris Techmen Hammock hot tent, but they don't know him. Therefore, I want to write comprehensive information about this tent to let you know more about it. After reading this article, you will know whether Onetigris Techmen Hammock Hot Tent is worth buying.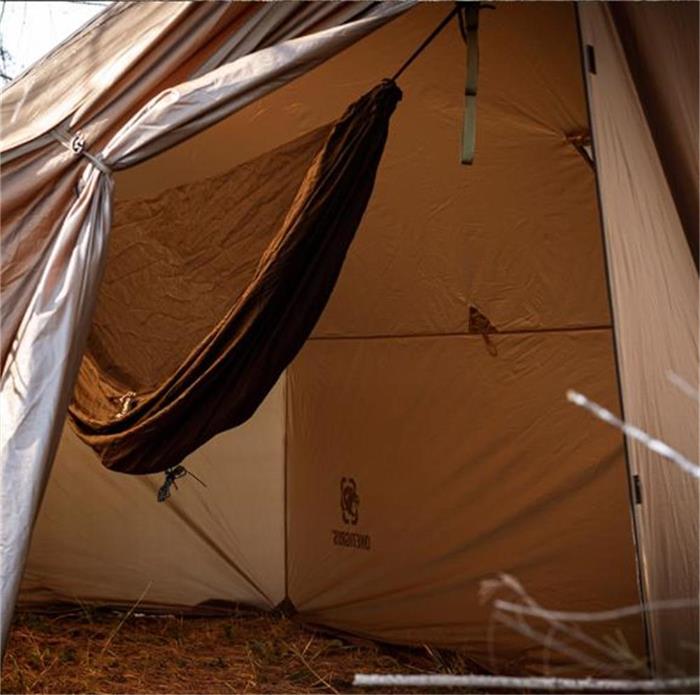 Quick View
Why Choose Onetigris
Reason for Purchase of Onetigris Techmen Hammock Hot Tent Value
Precautions for Purchasing Onetigris Techmen Hammock Hot Tent
Onetigris Techmen Hammock Hot Tent
Hot Tent Reviews
Why Choose Onetigris

Everyone knows that you get what you pay for. The quality of the tent is related to the price. Onetigris, founded in the summer of 2014, is a tactical equipment company headquartered in Shenzhen, China. Its vision is to become one of the world's leading tactical equipment brands. Onetigris's product line focuses on tactical dog equipment, air gun equipment, camping and survival equipment, and EDC equipment. Since its development in 2014, Onetigris has become a mature company. If you buy an Onetigris tent, they will have professional personnel to answer your questions.
Reason for Purchase of Onetigris Techmen Hammock Hot Tent Value
1. Dimensions.
The size is 12.5 feet *6.6 feet *6.2 feet (380 cm *200 cm *190 cm), which can easily place all standard size hammocks or 2 camping beds
2. Hammock Thermal Expansion Canopy
Hot tent built for hammock hanger, used for winter camping, the first hammock hot tent in the market
3. Waterproof and Tear Resistant
70D ripstop nylon, durable and dirt resistant/waterproof / abrasion resistant, 3000mm waterproof
4. High-quality YKK zippers are used at both ends to provide comprehensive protection
Note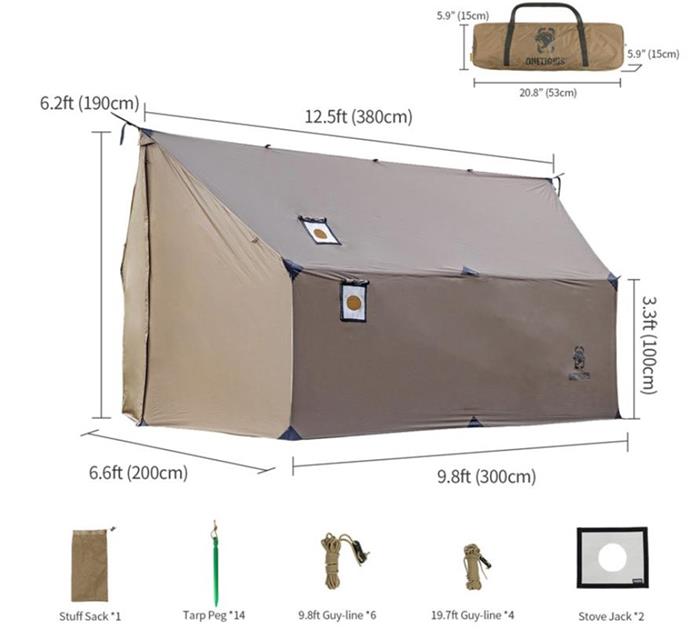 1. This product does NOT come with tent poles.
2. Stove jacks are pre-cut with 3.3″ by 3.3″ openings.
3. Never leave your tent while the wood stove is in use. Always use CO detectors and maintain good ventilation while burning wood stoves inside your tent.
4. Clear your hot tent of snow/ ice accumulation as the weight may damage the tent.
Hot Tent Review
Travis j hindering
1. Just got back from a 3-day winter camping trip with this tent. Got to say it was the best tent experience I have ever had. The tent is COMPLETELY water proof and draft free. Packs up as small as a two person dome tent and the stove jack showed no signs of wear after a raging fire the whole trip. Zippers are very high qaulity and easy to used all day. I will never use canvas wall tents again. I highly recommend this tent if you spend alot of time camping in very bad conditions. Absolutely impressed.
Chrissi Charles
This tent was absolutely amazing in the cold and wind.. very cozy and easy setup. Plus it's huge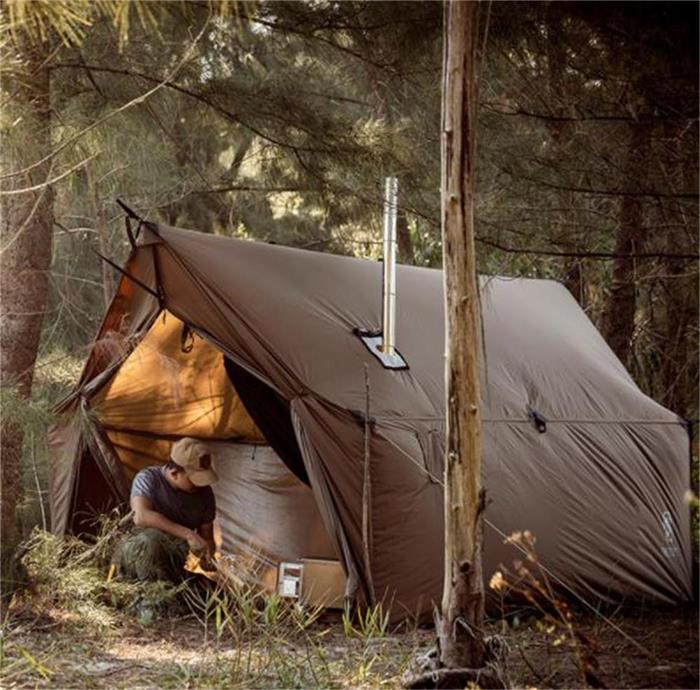 Tom Fournier
No instructions came with the tent. I haven't put a tent up since 1983 and it had poles. I'm completely lost. I wish it came with a drawing of how it goes up. Seems reasonable quality otherwise but useless if I can't figure out how to put it up or I ruin it trying. I have it three stars tentatively. If I can get it up and it works I'll give it more. I think three is generous given that I might not be able to use it.
Conclusion
If you want a hammock, this tent is a good choice. Large space, good warmth retention. It can add some different fun to your winter camping.