Camping tarp shelters are large pieces of waterproof fabric designed to provide some extra protection from the elements. When looking for a suitable waterproof cloth, two major considerations are its size and material. The former is straightforward; The larger the space you want to cover, the larger the floor area, and a single or two-person outing may use about 7 x 8 feet of waterproof cloth. In terms of fabrics, camping tarpaulins are basically divided into two categories: heavy and light. Heavy-duty tarpaulins are made of more durable and heavier fabrics that can cope with different weather conditions. Camping tarp shelters are more suitable for backpackers because they can be put into small bags, but more scientific settings are needed to protect you from bad weather.
In addition, look for a waterproof cloth with multiple reinforced connection points – the four corners are the least, but the more places you can lock, the easier it is to set and fix the tight-fitting. Some also include nice add-ons, such as cables and small grommets, that allow you to turn tarpaulins into temporary tents using a climbing stick. It should be noted that most tarpaulins have no ropes. You need to fix the tarpaulin to the nearest tree, pole, or car rack.
Below, we've listed the best camping tarps for hammock camping in 2022 with their pros and cons so you can make the best decision for your needs. Plus, stay to the end to find out some ways to choose the right hammock rainfly for you!
Wolfden UL Hammock Rain Fly Tarp Shelter
This lightweight hammock waterproof cloth is made of a 20d silicon-coated nylon structure treated with polyurethane, which is waterproof and abrasion-resistant.
It is only 1kg, which is most suitable for those who want to save packaging space and money but do not want to be satisfied with an inferior waterproof cloth.
All backpack waterproof tarps have some sacrifices. But wolfden UL hammock rain fly tarp balances weight loss without eliminating too many necessities.
Pros:
Light weight and easy packaging
Waterproof
Cons:
It May not be big enough for some people
Hennessy Hammock Hex Rainfly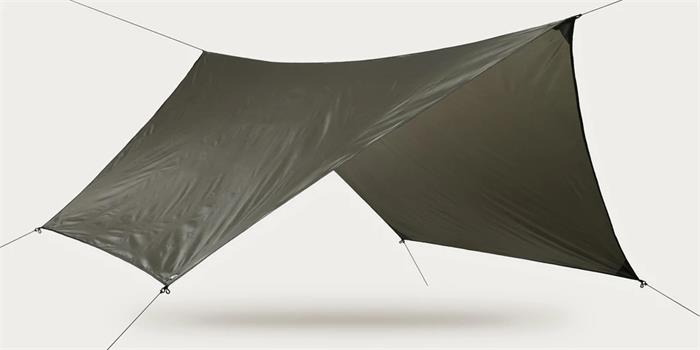 This PU-coated polyester tarp is waterproof, durable, and flexible.
The Hexagonal outdoor tarp can be angled out to provide more coverage, or you can put it near the ground to function as more of a tent. Plus, with six tie-outs, it's very secure.
The Hex is an excellent choice if you are expecting bad weather while backpacking.
Pros:
PU-coated for waterproofing and durability
Flexible and can be angled out for more coverage
Stakes between two hammocks for added workspace
Cons:
Heavier than some other bushcraft tarps
It May does not provide enough coverage for some people
Needs to be tied directly to trees
Bushcraft Outdoors Hammock Rain Fly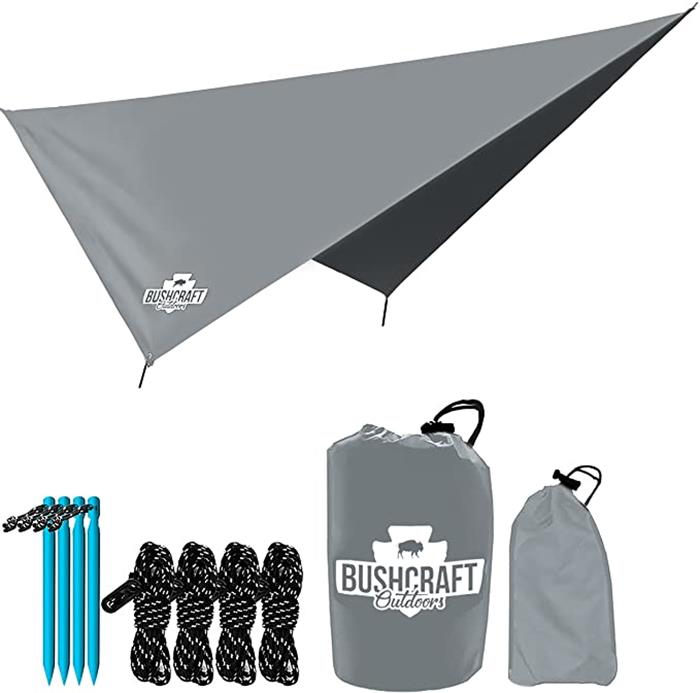 Despite being one of the lightest camping tarps on the market, the Bushcraft Outdoors Hammock Rain Fly is made from high-quality 210T ripstop polyester with fully taped seams and strong alloy grommets.
With only 4 tie-down points it offers a very easy setup while offering quick protection from the rain.
The diamond shape and lightweight material make it an excellent choice for an ultralight backpacking trip. It just may be the best rain fly on this list.
Pros:
Weighs only 18.7 oz in total, including all the guy lines and stakes
Features a unique diamond shape design for flexible setup options
Comes with a manual on how to set up the tarp
Cons:
Small coverage area compared to other camping tarp shelter
Gold Armour Hammock Rainfly Tarp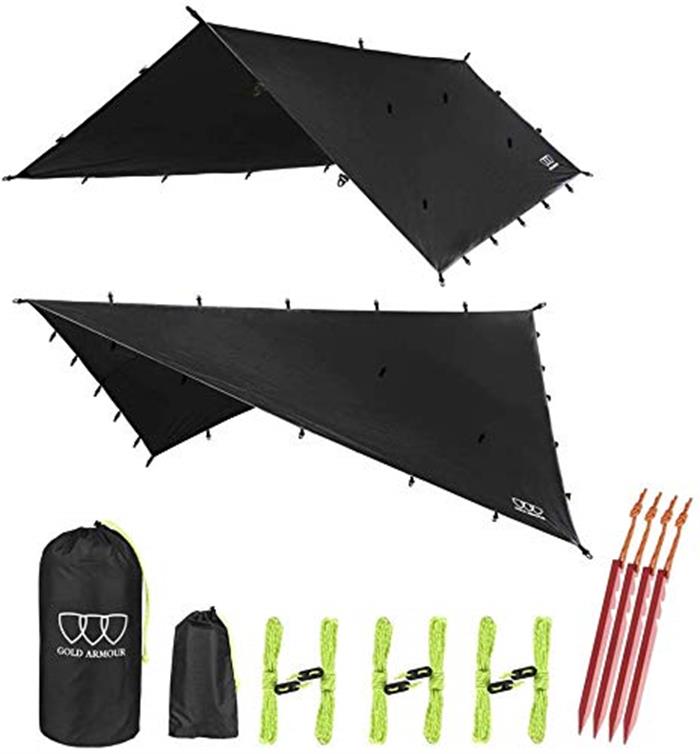 The Gold Armour Hammock Rainfly Tarp is one of the most customizable tarps out there thanks to its 33 tie-down loops.
You'll appreciate the extra anchor points when high winds strike.
Plus, this camping tarp shelter comes with a 100% satisfaction guarantee and a five-year warranty, making it one of the best hammock rain tarps on the market.
Pros:
Features 33 tie-down loops for adjustability
Warranty protected product
Cons:
Takes time to set up
Doesn't have the strongest tie-down loops
Free Soldier Multifunctional Camping Tarp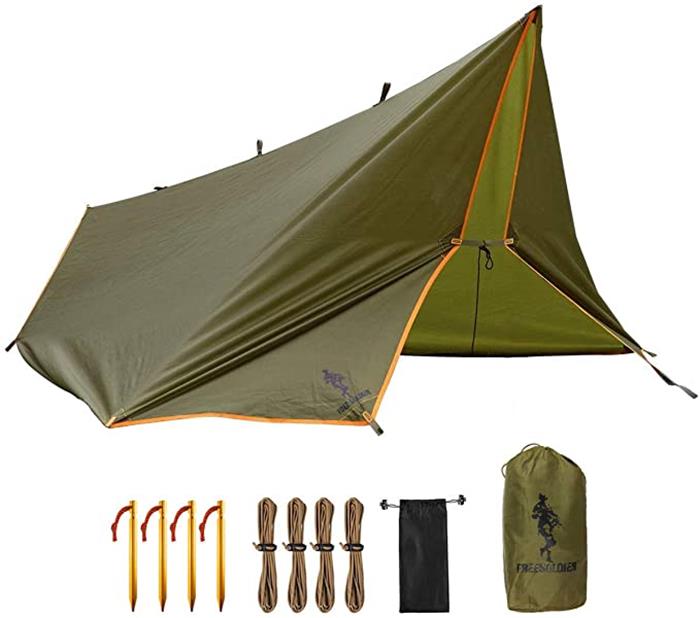 These rectangular tarps come in a large size 118″ x 126″ with a net weight of around 2.6 pounds.
Because of its size, it's not the lightest, but it offers durability and protection with a 2500 PU and silicon-coated 210T ripstop polyester.
With 19 tie-out points, these winter tarp shelters are ready for windy conditions.
Of course, these extra features add to the overall weight. But in extreme weather conditions, you'll appreciate the high quality and good coverage this one has over a smaller tarp shelter.
And with multiple tarp configurations, this may be one of the overall best Camping Tarp Shelters on the market.
Pros:
Perfect for 2 -3 person tents
Puncture-resistant fabric
Comes with a storage bag for easy portability
Can be set up in multiple different ways
Cons:
Not wide enough for large groups of campers
Heavier weight compared to other tarps on the market