About pomoly
Pomoly was founded in the summer of 2019. The Pomoly team is composed of a group of enthusiasts who love camping. Their team mainly sells tents, tent stoves, and some mountaineering equipment. Since its establishment in 2019, Pomoly had an experienced team. Through continuous feedback from customers, Pomoly's tent quality is getting better and better. You can safely choose Pomoly's products.
Many people choose to camp in winter. Camping without cooking is incomplete. Pomoly not only sells tents that can be protected from extreme weather but also sells tent stoves used in winter camping. Many people like T-brick Max Stove. Please follow me to learn more about T-brick Max Stove from this article.
T-brick Max Stove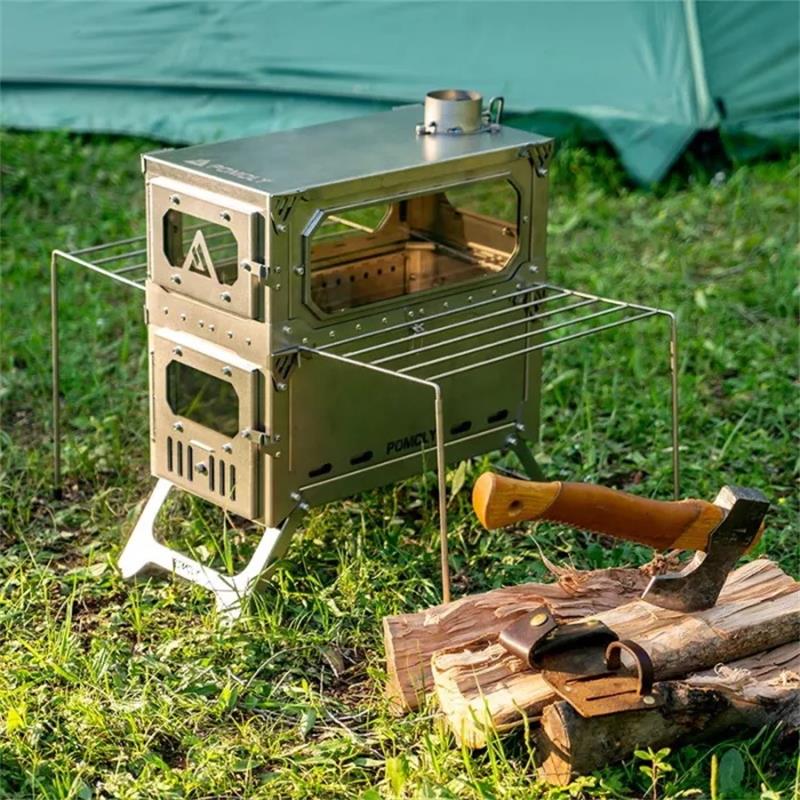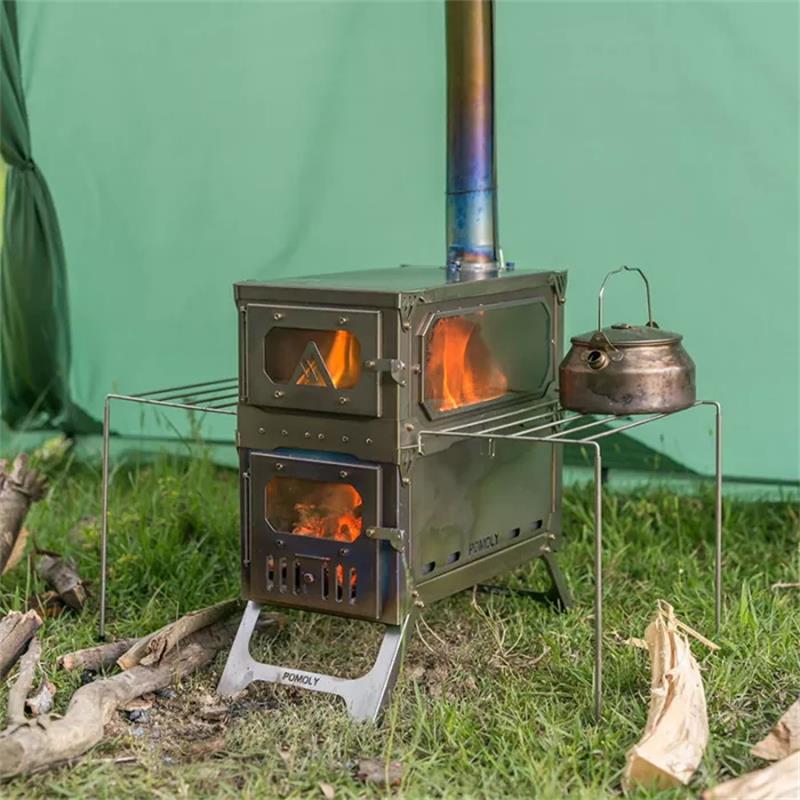 Shop Now: https://www.pomoly.com/T-BRICK-MAX
T-BRICK MAX Stove
Titanium chimney
2 New stove bag
Smoke damper
New spark arrestor with 3 rings
Cut-resistant gloves
Detachable baffle
*Tools (titanium screw and wrench)
product details
CHART

| | |
| --- | --- |
| Stove Type | Portable Titanium tent Stove / 4-6 Person |
| Carrying Weight (Without chimney) | 10.8 lb / 4.9 kg |
| Folding Dimension | 15.35 x 7.87 x 3.2 in (39 x 20 x 8 cm) |
| Stove Body Dimension | 15.35 x 7.87 x 13.39 in (39 x 20 x 34 cm) |
| Assembly Dimension | 15.35 x 7.87 x 17.32 in (39 x 20 x 28.5 cm) |
| Side Glass Size | 11.4 x 3.9 in (29 x 10 cm) |
| Pipe Length (Storage) | 9.5 in / 24 cm |
| Pipe Length | 6.56ft / 2m or 9.84ft / 3m |
| Pipe Diameter | 2.36 in / 6 cm |
| Spark Arrestor | Yes |
| Material | 1mm Thickness Titanium (GR1/TA1) |
| Firebox Volume | 26.5L |
| | |
T-brick Max Stove hot Reviews:
1. So excellent! I have 5 stoves for camping, and I love them best. Very very good!
2. A well-manufactured piece of gear. Will definitely keep my tent warm. With the additional level, it will be useful to load in more wood for longer burn times.
3. I will be looking at a different stove pipe configuration as the straight one-piece roll is adequate to get the job done, but finicky flimsy to deal with. I would much prefer a sectional pipe with a couple of elbows so I can position the stove better within the tent.
4. when I thought. I think it is the best among the stoves. The reason is as follows.
1. Very light.
2. The completeness of the product is very good.
3. No deformation even with many uses.
4. The firepower is very good with the two-layer structure.
5. Due to the nature of titanium, the color after seasoning is very beautiful.
6. Double combustion panel makes complete combustion.
It is a product I really recommend. You can also check it out on my YouTube channel. The channel name is 시우TV
Advantages of T-brick Max StoveT-brick Max Stove
T-brick Max Stove adopts a double-layer design. Firewood capacity increased by 89%. You can use double-layer mode. When we fill the firebox with tents, it can burn longer than T1 and t-bric New four side panels.
Compared with the T1 series, the four side plates of the T-bridge Max can be switched freely. Inside the tent, we can face the glass side plate and observe the burning of wood. The glass side panels also provide light for your hot tent.
shortcoming
Since this stove is designed for multi-person tents, it is more suitable for car camping. Too heavyweight is difficult for hikers to carry.
Conclusion:
This stove is very good. If you need to go camping with friends or family, you can rest assured that you will be satisfied with the T-brick Max Stove function. Just one is enough for this camping!
Read More
Analyze 5 Reasons Why T-brick Max Camping Stove is Worth Buying
Why Choose Pomoly Taisoca Oven Stove for Hot Tent Camping?