If you are in a hurry and want to know my choice of the best 6-person tent, I recommend the bromance 70 tipi wood stove tent
Leading manufacturers offer many classic six-person tents. This hot tent uses the latest tent technology to make you and your team feel comfortable.
Bromance 70 tipi wood stove tent has the characteristics of waterproof fabric, advanced ventilation system, spacious internal space, and fast setting time. The tent you choose will depend on your team size, season, and personal preferences.
What are the benefits of a six-person tent?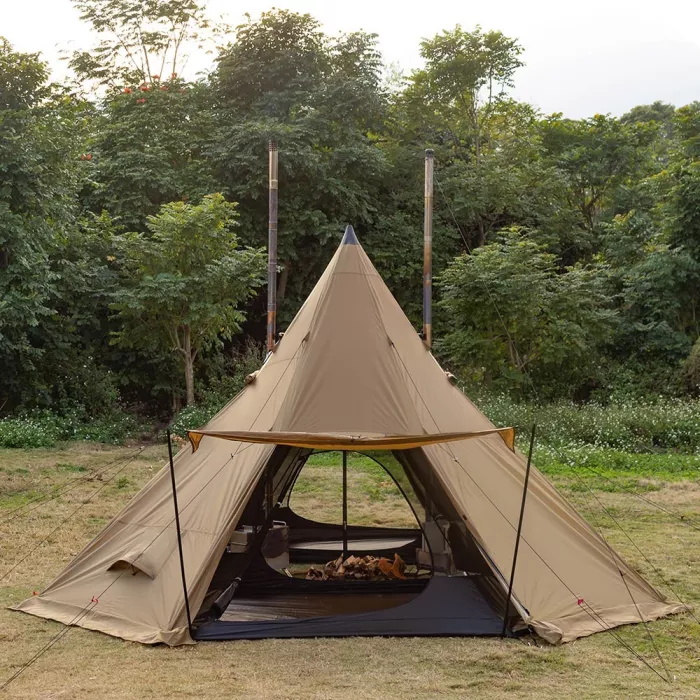 convenient
One of the biggest benefits of camping with a 6-person tent is the convenience it provides you. If you camp with a group or family, you only need to set up a tent. This will save you a lot of time building tents. Camping will never be fun when it becomes a chore. Here are some ways to make family camping easier.
Family Travel
If you travel as a family, a six-person tent is a great choice for parents with two or three children. You will have to decide whether you want a tent as a family or a separate tent.
With a larger tent, you can concentrate everyone in one place and make everyone camping more comfortable. You don't have to worry about your child being in the same shelter with them at night. If they are not familiar with camping and adapt to sleeping in tents, it will also reassure younger children.
I suggest that you involve your children in everything. Even if it means more work for you. Such activities can exercise children's organizational ability.
What features are you looking for when buying the best 6-person tent?
Shop Now: Bromance 70 Tipi Wood Stove Tent for 4-6 Person (3 Stove Jacks) 
Easy to set
Find a tent that is easy to build so you can save time and energy. For example, some tents have fast or fast spacing designs. This allows you to set up your tent in a few minutes using traditional settings.
Some tents also offer color-coded poles. These provide quick and easy settings so you can immediately resume enjoying outdoor activities.
Check the manufacturer's setup time to make sure you can set up your camp quickly and easily.
Weatherproof material
Rain is a thing that can ruin any camping trip. If your tent doesn't keep you dry, it may be enough for you and others to go home. Make sure your tent is waterproof. The tent has a hydrostatic head (Hh) measurement. This indicates how waterproof the fabric is.
In addition to the HH rating, make sure your tent is equipped with rain flies to increase weather protection. It is important to check functions such as the waterproof floor. Some tents don't have weatherproof floors.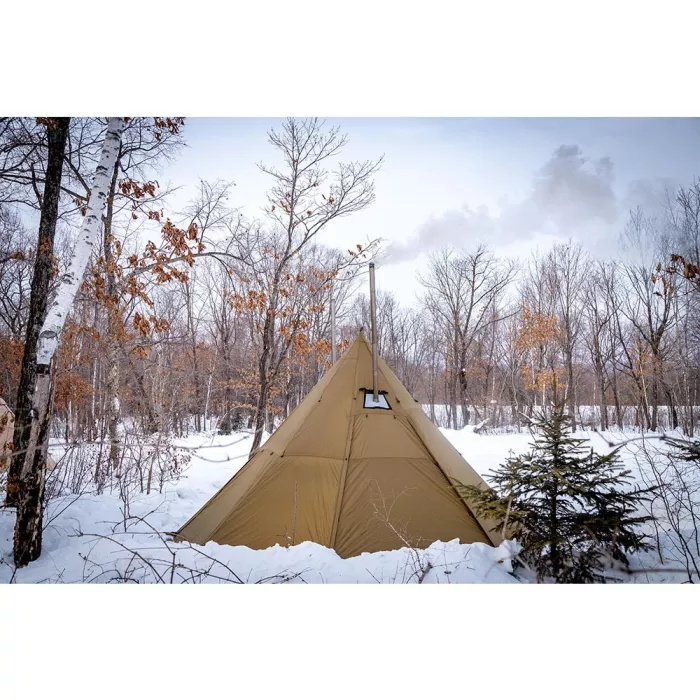 ventilation system
Ventilation is very important, especially when a large group of people shares a shelter. Without proper ventilation, your tent will become uncomfortable and stuffy in warm months. If the air cannot escape, you may encounter condensation problems. In cold weather, this can be a dangerous situation because it will make you wet and cold.
Look for large mesh windows to allow air circulation. In addition, functions such as ground vents can help push hot air upward out of tents and roof vents to allow air to escape. This helps you stay cool and comfortable at night. Tents with features such as additional screen rooms may also help keep summer camping cool. The Bromance 70 has vents at the top and bottom. You don't have to worry about that.
To learn how the Bromance 70 works with the stove in cold weather, we camped in minus 25 degrees snow for three days. It has three stoves. We can choose two opposite stoves to use two tent wood stoves. The biggest advantage is that it provides more heat energy. At the same time, everyone sleeping in the tent can control the stove close to him, such as the air inlet, air door, and firewood. It is no longer tangled in the direction of the stove door, but also convenient to add firewood. In addition, you can cook your favorite food and share it with your friends, which should be the greatest fun of camping with your friends.