Everyone likes a delicious, smoky dinner cooked over an open fire. But not all places allow open fires. Therefore, it is necessary for us to have a portable stove.For cold camping enthusiasts and camping chefs, the Oroqen tent wood stove will never go wrong.
Oroqen tent wood stove
Material: 304 stainless steel and high-temperature refractory glass.
Fire box size: 15 "x 7.9" x 8.7 "/ 38cm x 20cm x 22cm (L * w * h)
Weight (excluding stack): 21lbs / 9.6kg
Stovepipe:  6 x 13.8 "(L) x 2.36" (W)
Assembly dimensions: 18.1 "x 20.9" x 85.8 "/ 38cm x 53cm x 218cm (L * w * h)
Shop Now: Oroqen Tent Wood Stove | Stainless Steel Stove for Hot Tent Camping | POMOLY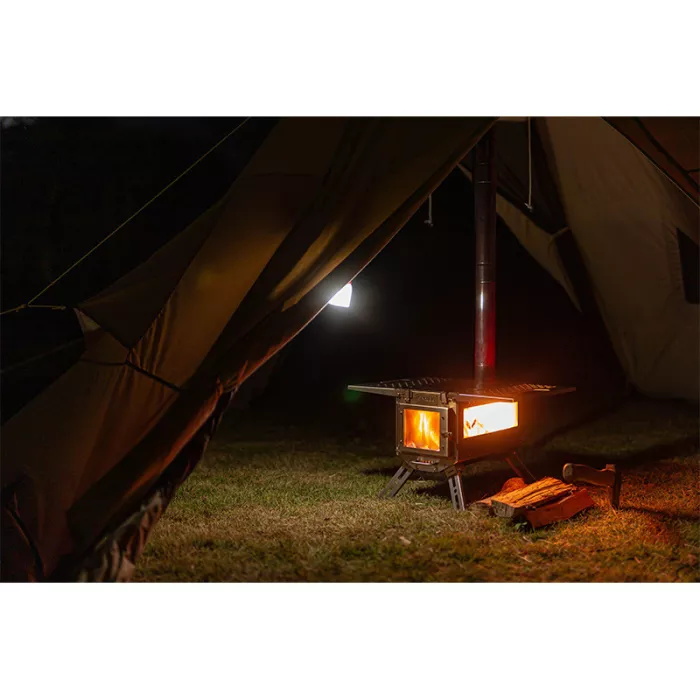 85.8 "indicates the total height from the ground to the spark arrester.
For cold camping enthusiasts and camping chefs, the Oroqen tent wood stove camping tent stove will never go wrong.
Users like just over 15 × Large cooking surface area of 9 inches. In addition, the additional 2 shelves provide more space for you to prepare food before throwing it on the grill.
Unlike many other  camping tent stoves on our list, Oroqen tent wood stock camping tent stoves are strong enough to bring you the coldest camping adventure.
Why? Because the heat output is enough to warm the whole tent! Just make sure your tent is flame-retardant and can accept the attached chimney sink.
As an added benefit, it has a toughened glass window for easy observation of the fire. After a delicious dinner, snuggle up in the cold winter night and watch the dancing flame!
Just be careful to overheat the heater. Some campers mentioned that the fire was so hot that the coating began to peel off. Therefore, please be aware of any potential damage.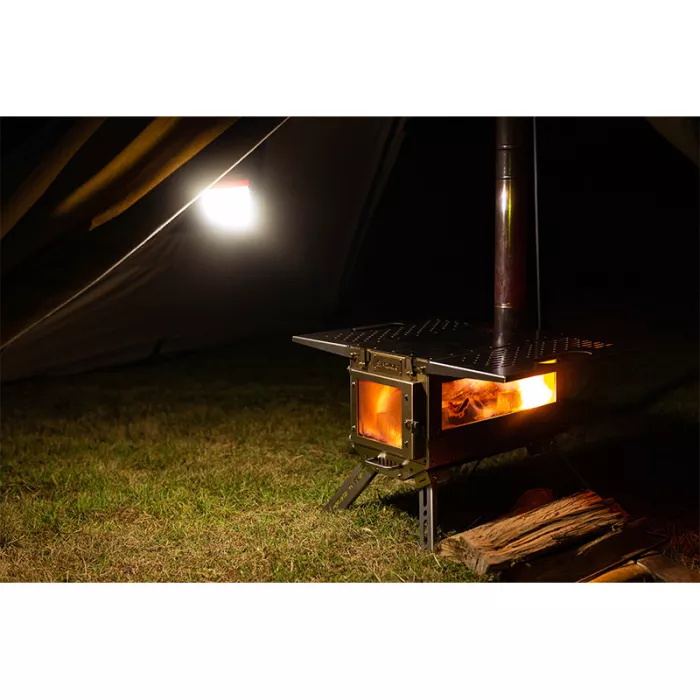 Advantage:
Oroqen tent wood stove is made of stainless steel 304 brushed plate with two removable side tables. It has a door with a flat glass window for observing the flame. The handle under the glass is also a sliding air inlet. The drawer air inlet can adjust the firepower from minimum to maximum. At the same time, the burning ash will fall on the drawer and we can clean it up. When you open the drawer, the internal fixed hollow combustion grate design optimizes the flame efficiency to achieve maximum heat output.
Specifications:
CHART

| | |
| --- | --- |
| Stove Type | Tent Wood Stove |
| Carrying Weight(Without chimney) | 21 lb / 9.6 kg |
| Storage Dimension | 15.8 x 9.5 x 10.2 in / 40 x 24 x 26 cm |
| Firebox Dimension | 15 x 7.9 x 8.7 in / 38 x 20 x 22 cm |
| Assembly Dimension | 18.1 x 20.9 x 8.58 in / 46 x 53 x 21.8 cm |
| Side Glass Size | 12.2 x 3.2 in / 31 x 8 cm |
| Front Glass Size | 4.5 x 3.9 in / 11.5 x 10 cm |
| Total Height | 85.8 in / 218 cm |
| Pipe Diameter | 2.36 in / 6 cm |
| Spark Arrestor | Yes |
| Material | Stainless Steel 304 |
| Firebox Volume | 16.7L |
| | |